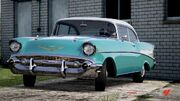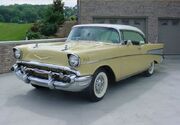 The 1957 Chevrolet Bel Air was first included in the fourth installment on Forza Motorsport series
The 1957 Bel Air was perhaps one of the most known cars ever to exist! Extremely popular, it was different when it first hit the streets.
The car was designed by Bill Mitchell. It was designed in middle of 1956. It first was made in the factories shortly after in late 1956.
General Motors expected this new car at the time to be popular than any other car released since the 1920's. The car was an epic fail. Its sales was too low.
In 1958, sales were a little higher than 1957, but still too low. Eventually in the late 1950's, this car was returned to the dealerships it was purchased at. In the 1960's, sales suprisingly went up. It was a great first car for teenagers and people who wanted to save their money. The 1970's was similar, but these cars were getting crappy.
In the 1980's, this car settled into rest. It was mostly finished. Since then, it has became a great classic car, just like other GM automobiles from the 1950's. Today, it still is popular, so Turn 10 decided to put this as November DLC shortly after the game's release.
In Forza Motorsport 4, this is a lowered range class E car. Terrible accerlation, but a great cruiser and a good car to drive for fun. It has three gears, and top speed is just below 140 mph. It is highly advised not to race in this car.
Since a lot of colors have been offered to this vehicle, only two of them are two-toned. Turquoise and shinny black. Both have a white top. All others are one color only for choosings. Many people offer to make vinyl groups for two-tones. Some sell them for a cheap or a fair price. Others do it for free (to share), and to scam for 50,000 CR.
You can purchase a back wheel that can be installed to the back of your car. It is realistic, so if you like it realistic, you can do that.
If you are a muscle car fan, and like hot rods, add a Forza hood body part to it, it looks like a hot rod.
Ad blocker interference detected!
Wikia is a free-to-use site that makes money from advertising. We have a modified experience for viewers using ad blockers

Wikia is not accessible if you've made further modifications. Remove the custom ad blocker rule(s) and the page will load as expected.